I didn't think I would ever blog about a TV programme but OMG! This show has to be an exception, did you watch it? If you didn't the long & short of it was 3 women tell the world that they hunt out rich men in order for them to buy expensive things for them, ok that's nothing out of the norm a lot of people say they are out looking for a rich man but wait for it … these girls claim they get thousands of pounds worth of gifts for men for doing nothing !!!
The show follows
Jeanette, 33
from Liverpool who is basically in my eyes a gold digger she goes out looking for men with her girlfriends in bars gets them to buy her drinks & to get phone numbers this may sound very normal but she claims that she enters the numbers into her bbm (because facebook is sooo out apparently) & then goes out shopping & sends pictures to these men & they just get her the goods. Hmmm to me I think a likely tail they apparently expect nothing in return & are happy to do this. My question is though how does she get these things? Isn't she worried that things may turn nasty or that she could get a stalker? Later in the show she says she has put on her bbm that she is down in the dumps & gets a business class ticket to New York purchase for her. You then see her in New York with a man with a blanked out face but to me he looked fat with long curly hair yuk! After a day she was parading him around shops to get him to buy some medium priced good like swarovski jewellery & ugg boots when he turns funny & basically wants to know what he gets in return it was sooo awkward it remind me of a time when your getting drinks of men in pubs & they turn nasty because they have forked out for half a larger & expect a snog lol it was just utter shameful but she couldn't understand why the man was being so funny, I actually though are you mad she was even staying in his house ! Didn't she realise he could have killed her?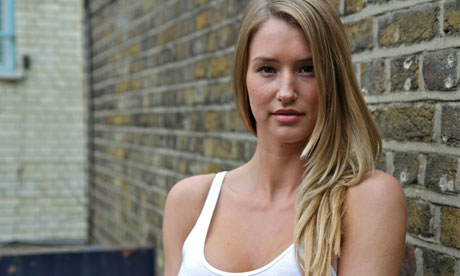 Danica Thrall
From Derbyshire, she is a glamour model so I can sort of see why men might send her things but she isn't that well know for goodness sake & do people even send £2,000 dresses to celebrities they like just because? If they do the world has gone madder than I though & how can there be a recession on when things like this are apparently going on have these men thought about starting up a charity lol. Anyway not to go off the subject this girl pretends to be a little more classier than the other 2 but is actually even worse she not only asks men for things over twitter she also has a list on Amazon of things she wants 1 being a tumble dryer! Its not a wedding list doesn't she know? You may think this is quite harmless but she then goes on to have web chats with men for £50 for half an hour & if she really likes them they get a buy one get one free! If her sister is there she also gets her in on the act & they both chat to these men they don't show you anything smutty on the show but men are not going to pay £50 to say hello how are you & what have you been up to who is she trying to kid? Her sister tries to say this is harmless as most of the men are just on there own & lonely but I'm afraid to ask why was one hauled up in a Morrisons car park talking to them if he is alone why doesn't he do it from the comfort of his own home? They ended the conversation with I love you how touching.
Hollie Capper
From Mansfield & is the youngest of the 3 which you can tell she seems a little naive & a bit DIY as she goes on dates & asking for these presents but gets things like £30 Calvin Klein earrings which she is not happy about. The goods she gets her mum sells on ebay! It also shows her working as a dancer in Mansfield & dragging men into bars on stilts! She says that she meets men & looks them up online to see if they are rich, hmmm not sure if Mr such & such publicises on the Internet that he is rich. The programme also shows her having conversations over the phone with men telling them they are horrible & fat & they then apparently put money in her bank. The more distressing thing is that at the end of her phone conversation her mum says she was 'brilliant' & it came across that she thought the whole thing was great. The fact that anything could happen didn't even come into the conversation. How long will it be before she gets in deeper than she wants to?


Well I don't know about you but I cannot believe all this nonsense actually exists men forking out thousands for the pure heck of it, I'd be interested to know what other people think & for all those rich men out here is my quick list of things would like & obviously cash, flats & cars are also accepted from those real high flyers hahaha.
3)
Rolex watch or Brietling im not fussy
I thought the show was so stupid & just not believable some of the tweets that were going round were hilarious, I think you know from the title it was going to be a trashy bit of TV but the title does draw you in. Although I think 90% of people slated the programme no one would want to turn down a freebie but most people have the brains to realise that nothing in life is for free.